The general concensus after Dusty Day 2015 seemed to be that it was the best ever. I have so much to do on the day that it's impossible for me to judge, but I'm happy to accept that everyone had a great time.
Numbers were similar to last year but most people stayed indoors as the weather wasn't as kind to us. This meant there was a real buzz in the room.
The day began with Janine Jackson giving us Little By Little, The Look Of Love and a couple of other Dusty classics, accompanied by Jonathan Cohen, who is now back to full health. Martina Wren then gave beautiful readings of I Onll Want To Be With You, Will You Love Me Tomorrow & Anyone Who Had A Heart, ably accompanied by John Bowman.
As Simon Bell had donated some of his EPs to the day he then performed 2 of the songs live accompanied by his producer Justin Whittingham, who warrants further thanks for his continued load of the keybord we use on the day.
Legendary folk singer Julie Felix followed in her own inimitable way.
We learnt about the new musical "Dusty" from writer Duncan Sibbald. That will be unmissable.
As they day continued raffle tickets were sold by Clive Burgess & Jen Alexander. Thanks to everyone who donated items for the raffle.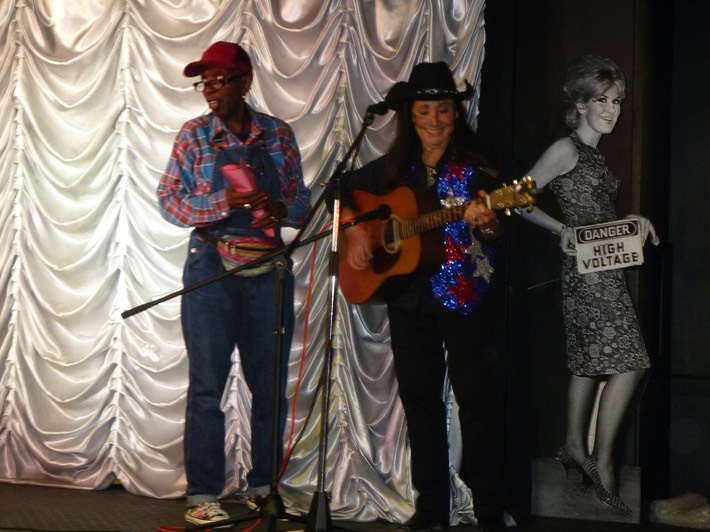 Jonathan Cohen joined Simon Bell for a set of Dusty songs including Getting It Right, I'm Coming Home Again, I Am Your Child, I Close My Eyes And Count To Ten, All I See Is You & I'll Try Anything
We were then treated to a performance by Jon Mapp & Ollie Stokes, two local jazz musicians, who played Sunny & Peel Me a Grape.
What better way to introduce sensational Liane Carroll who gave us My Colouring Book & How Can I Be Sure?
West 5 regular C.J. took to the piano with 2 songs, includingYou've Got A Friend
Following the auction which raised a lot of money for the charity (details to follow) Ian Shaw thrilled us with Love Me By Name & A Love Like Yours (Don't Come Knocking Every Day) with Madeline Bell & Simon Bell backing.
Madeline & Julie Felix then did Julies arrangement of Going Back before Madeline's own set of A House Is Not A Home & I Just Don't know what To Do With Myself, accompanied by Ian. Madeline also paid tribute to the late Ben E Kind with Stand By Me.
After the lengthy raffle it was time for a finale of I'll Try Anything & You Don't Have To Say You Love Me.
We will have the total raised soon.
Thanks to John Aitken, Paul O'Mara, Jonathan Walmsley (sound) & the management and staff of West 5.