From the many reactions I'm getting, Dusty Day 2014 seems to have been very welll received. We will bring you the total raised for the Royal Marsden as soon as we have it. There have been donations sent from overseas which are still clearing banks.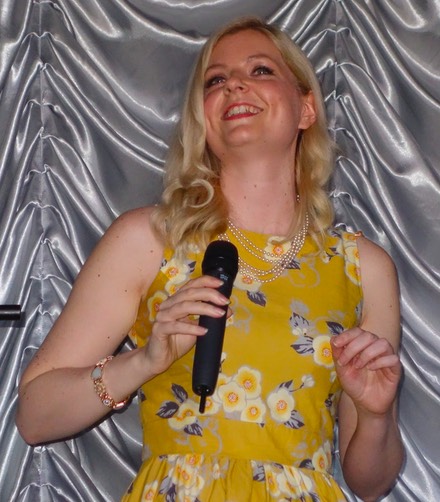 The sunny day began with Martyna Wren (left) signing Oh No! Not My Baby, and Wishin' & Hopin'. Martyna's voice was perfect on these songs. Simon Bell then did Sunny, which was apt on such a lovely day.
The Neasden Queen of Soul, Mari Wilson joined us with Alistair on keyboard for I Just Don't Know What To Do With Myself, Spooky, and a very moving version of Island Of Dreams.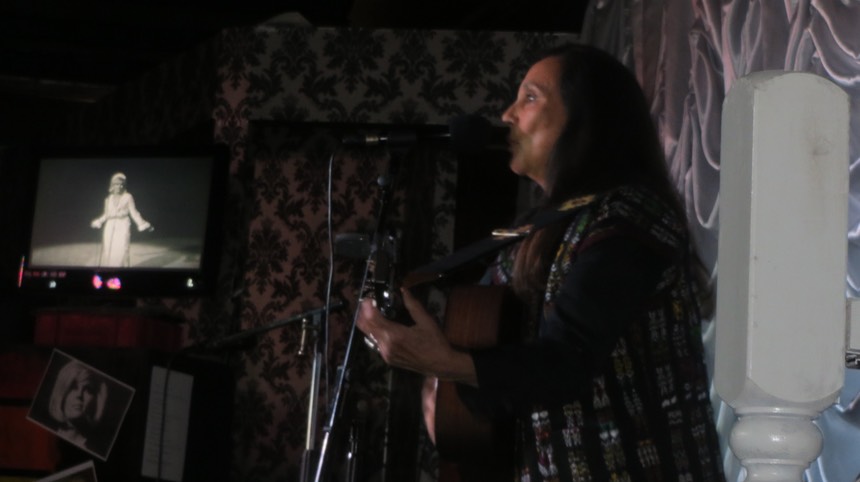 Julie Felix has become something of a Dusty Day institution, and this year she gave us a number created for her recent 50th Anniversary celebration concert, featuring part of Dusty's songs and regretting her passing. Madeline Bell joined Julie on stage for this.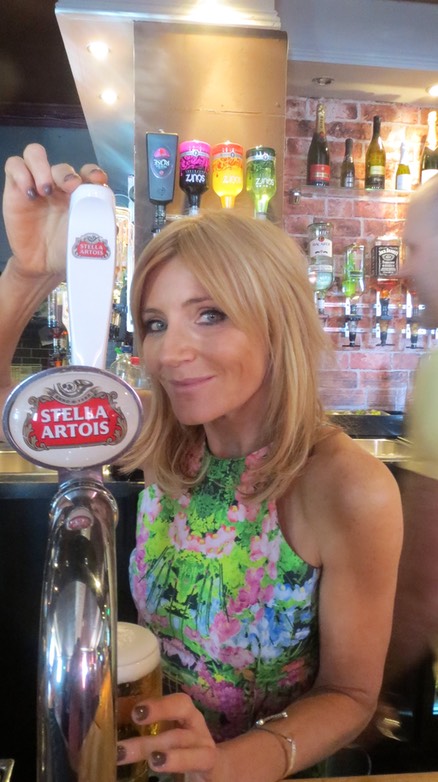 Michelle Collins, known for her roles in Coronation Street and Eastenders, joined us & told Simon on stage that she has long wanted to play Dusty on screen. There is a project, in it's early stages, that she hopes will come off. Michelle was a very big hit, even pulling a pint of Stella behind the bar. (her Corrie character was Stella!). Michelle is about to join Casualty.
The auction followed, and then Simon Bell sang I'm Coming Home Again and Someone To Watch Over Me, accompanied by Ian Shaw, in the absence of Jonathan Cohen.
Ahead of her birthday in a couple of months, Pat Rhodes was presented with a beautiful cake, baked by fan John Harding.
Once the raffles were drawn, with the help of Sonia Jones, Simon introduced Liane Carroll, who thrilled us with My Colouring Book and How Can I Be Sure?, followed by Ian Shaw singing A Love Like Yours (Don't Come Knocking Every Day) and If You Go Away. Then Madeline Bell joined Ian for a thrilling A House Is Not A Home.
The evening was brought to a close by Ian, Madeline & Simon doing You Don't Have To Say You Love Me.
The list of thank yous:
Daniel Wood & Jonathan Walmsey and all the staff at West 5.
Justin Whittingham for the loan of the keyboard.
John Aitken, Paul O'Mara & Clive Burgess for their hard work on the day. It would e impossible without them
Henley Festival for the donation of Burt Bacharach tickets.